Books

Printable Order Form >> (Click Here)
List of International Distributors >> (Click Here)
The Anatomy of Deception
In an age of darkness and seduction, and with "signs and wonders" becoming more and more prevalent, the ability to discern between those that are false and lying and those that are true is of paramount importance.
 Paperback, 60 pages. $7.00

And They Crucified Him: Some Thoughts on the Cross
God chose the cross as the ultimate depiction of His divine being and the basis for true faith. He intended to devastate and contradict every human notion we might have of Him in order to reveal what His divine essence always was and is.
Paperback, 130 pages. $12.00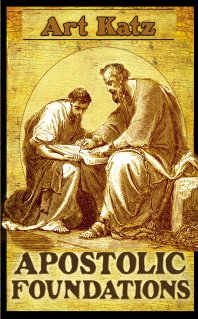 Apostolic Foundations
Art seeks to capture the flavor and meaning of this most holy foundation. Few have adequately understood that unless the Church is built on this foundation, then it simply is not the Church in any authentic way. Includes "Apostolic Conversion".
Paperback, 235 pages. $14.00

Ben Israel: Odyssey of a Modern Jew
Written as a literal journal, Art recounts his conversion experience as an unbelieving atheist and former Marxist seeking the meaning to life, and finally apprehended in Jerusalem by the God of Israel.
Paperback, 149 pages. $12.00

Dachau: A Silent Witness
Art takes up the subject of the silence of God during one of the darkest moments of Jewish calamity: the Nazi concentration camps. The seeming absence of God, when rightly understood, provides a key to the knowledge of His true reality and presence.
Booklet, 35 pages. $4.00

The Holocaust: Where was God?
Art turns to the Hebrew scriptures for the key of interpretation to one of the most catastrophic tragedies in modern times. In this examination of that ultimate tragedy, the issue of God as God is brought courageously to the forefront of our consideration.
Paperback, 91 pages. $10.00

The Prophetic Call: True and False Prophets
If we cannot distinguish between the prophets that are true and those that are false, it is a statement that we are unable to distinguish between the God who is true and the god who is false. An examination of the prophetic man and his ministry.
Paperback, 110 pages. $10.00

Reality: The Hope of Glory
The four messages in this book lift the Spirit-led life out of the confines of artificial and religious environments. A bold challenge to every lesser version of Christian life and a powerful inspiration to those who will not settle for less.
Paperback, 156 pages. $10.00

The Spirit of Truth
We seek to know biblical truths, but God seeks to make us true. A deep, incisive probing into the nature of truth in an age of religious pretension, exaggeration and deception. This book calls the church back to its essential identity as the "ground and pillar of truth."
Paperback, 101 pages. $10.00

The Temptations of Christ: A Call to Sonship and Maturity
The scriptures indicate that Jesus was led into the wilderness in the fullness of the Spirit, but came out of that testing place in the power of the Spirit. An examination of God's purpose in testing and trial.
Paperback, 56 pages. $5.00

True Fellowship: Church as Community
The call to Christian fellowship is a call to the cross, to humiliation and suffering. Our defects, our shortcomings and our failures will be revealed. Out of the agonies, opportunity is given for a reality to come forth that can best be described as "true fellowship."
Paperback, 146 pages. $10.00

What a Jew Does with Jesus
Despite the apparent contradiction, the author pleads with his Jewish kinsmen to take into their deepest consideration the truth that biblical Judaism is determined solely by what we do with Jesus of Nazareth. Includes the booklet: "The Chosen People – Chosen for What?"
Paperback, 128 pages. $10.00
Art Katz: A Treasure in an Earthen Vessel
In this booklet of memoirs, Inger Hava Katz sets forth the Art Katz she knew from her 44 years of marriage with him. Written in her humorous, blunt and earthy way, Inger includes many anecdotal stories from their family and ministry life. Loaded with photos.
Booklet, 45 pages. $7.00

The Final Mystery: Israel and the Church, a Key to Comprehending the Last Days of this Age
Here is the time-tested and controversial call to cross a final threshold and be rid of worldly wisdom and 'deviant distortions' that have obstructed revelation and transfiguration. It is not conducive to any traditional understanding of the 'mystery' in this last hour of the age. Forward by his daughter Sissie in memory of her parents.
Paperback, 207 pages. $15.99
---
---
PLEASE NOTE: If you are encountering problems with placing an order from this site, please go to
www.benisrael.org
and place your order from the book store located at our sister site.